Miss Millie is a treat connoisseur. Meaning I needed to find a dog treat recipe. Her human however is not the cooking type. Thus, arose the need for some Easy Dog Treat Recipes.
I always purchased my treats with my first dog which in hindsight probably wasn't a great idea since most of the treats I used frequently have now been tied to increased cancer rates. With Miss Millie I was in a position to do things differently and there was a LOT more information available.
In the first two months of 2018 there have been six – 6 – recalls on dog food and treats. It is February and so far, five – 5 – companies have put out food or treats with salmonella and/or listeria monocytogenes. In 2017 there were 12 recalls on dog food and treats. I don't know about you but I don't want to deal an ill dog because of the food or treats that I'm feeding.
Easy Dog Treat Recipe
While I still feed Miss Millie dry kibble I have moved away from most commercial treats. Which means I have to make her treats. And I'm no chef. I need something easy and quick that I can put together and that will last, or be able to be frozen.
I've adapted these dog treat recipes based on other recipes I found. The original dog treat recipe link is included for each if you'd like check it out.
Frozen Snacks
Miss Millie is a sucker for a good frozen snack. She's got quite the sweet tooth and these seem to curb her interest in stealing Skittles or whatever else is in the house. I didn't want to buy the store version so I found a great dog treat recipe I could modify.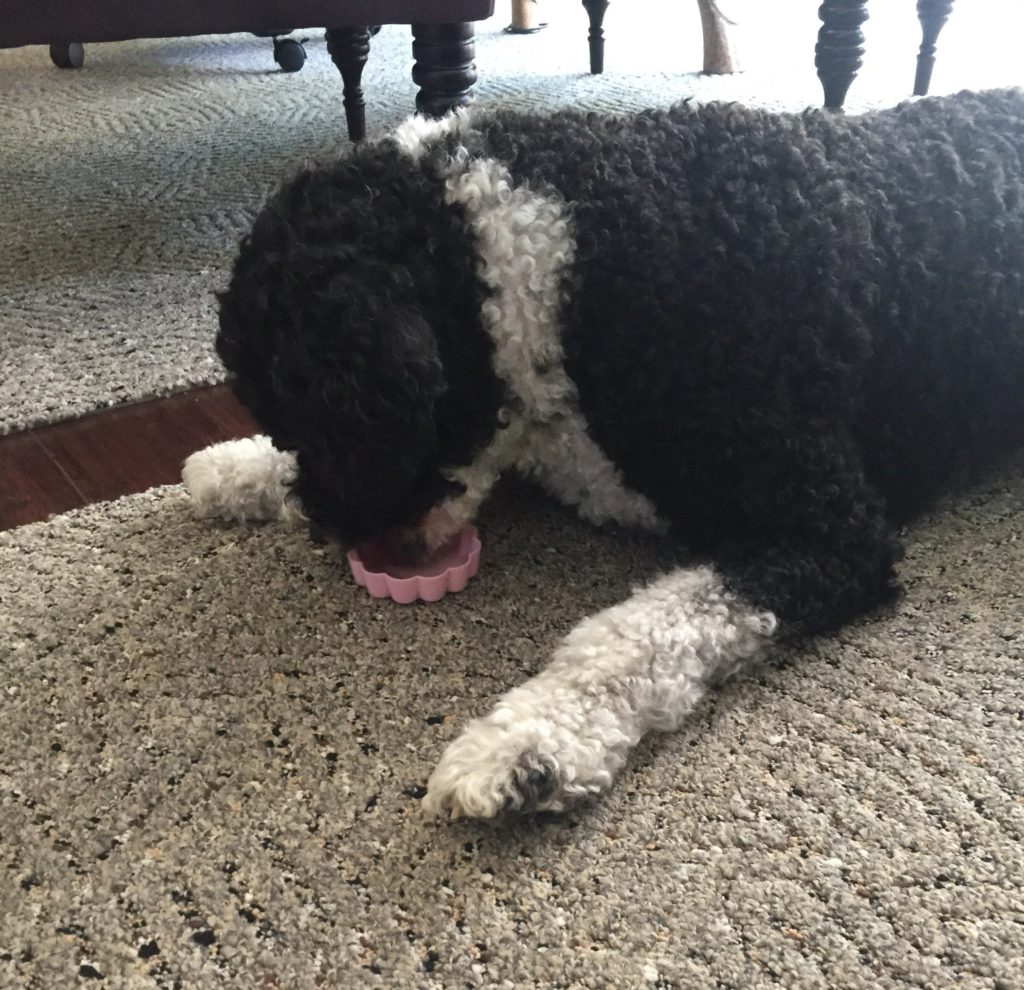 Ingredients:
1 32oz container Plain Greek Yogurt
1 cup Peanut Butter
1-2 cups Mixed Frozen Berries (or fresh blueberries, raspberries, blackberries)
1 Banana
3 TSP Flax Seed
¼ cup Honey
Mix all ingredients in the blender. Pour the mixture into molds or ice trays and freeze. The mold in the image is from Target but I like using these molds from Amazon as well:

You can check out the original recipe here
Meatballs
Generally, I will triple this dog treat recipe because Miss Millie gets these for agility trials and practice so it is nice to have enough on hand for about a month.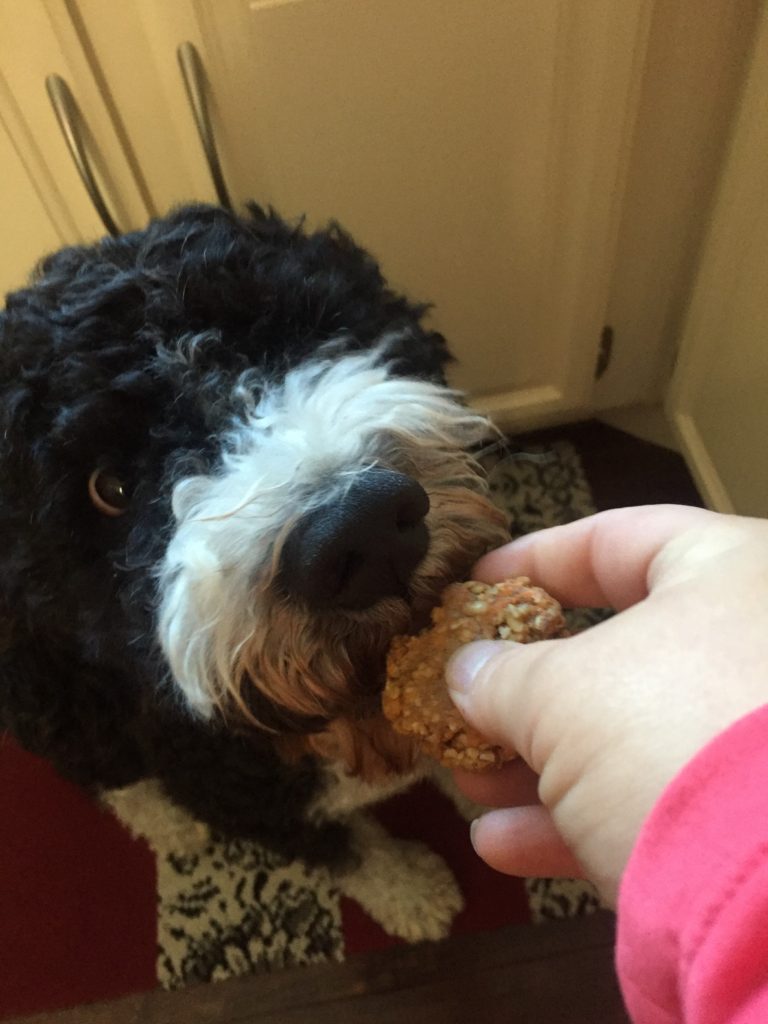 These meatballs are such a hit that all of her classmates and dog friends want them!
Ingredients:
1 lb Ground Turkey
1 Medium Sweet Potato
½ cup Shredded Carrots (optional)
1 cup Quick Cook Oats
1 TBL Cinnamon
¼ cup Honey
Instructions:
Preheat the oven to 350.
Microwave sweet potato for 9-10 minutes, make sure to poke holes in the potato before putting it in the microwave.
In the meantime, add the oats, cinnamon, carrots, and turkey to a large bowl and mix.
After the sweet potato has cooled slightly, split the potato in half and use a fork to shred the inside into a large bowl.
Add the honey and mix until well combined. It is easiest to use your hands to mix, however I use a masher to mix because I don't touch raw meat.
You can use a cookie sheet, mini muffin pan, or molds to make the meatballs. Regardless of what you use, spray the sheet, pan or mold with cooking spray to avoid sticking! I use mini muffin pans and molds.  These are the pans I like:

Cook for 15-20 minutes depending on the size of the meatball.
After cooling, store in the refrigerator or freeze for later.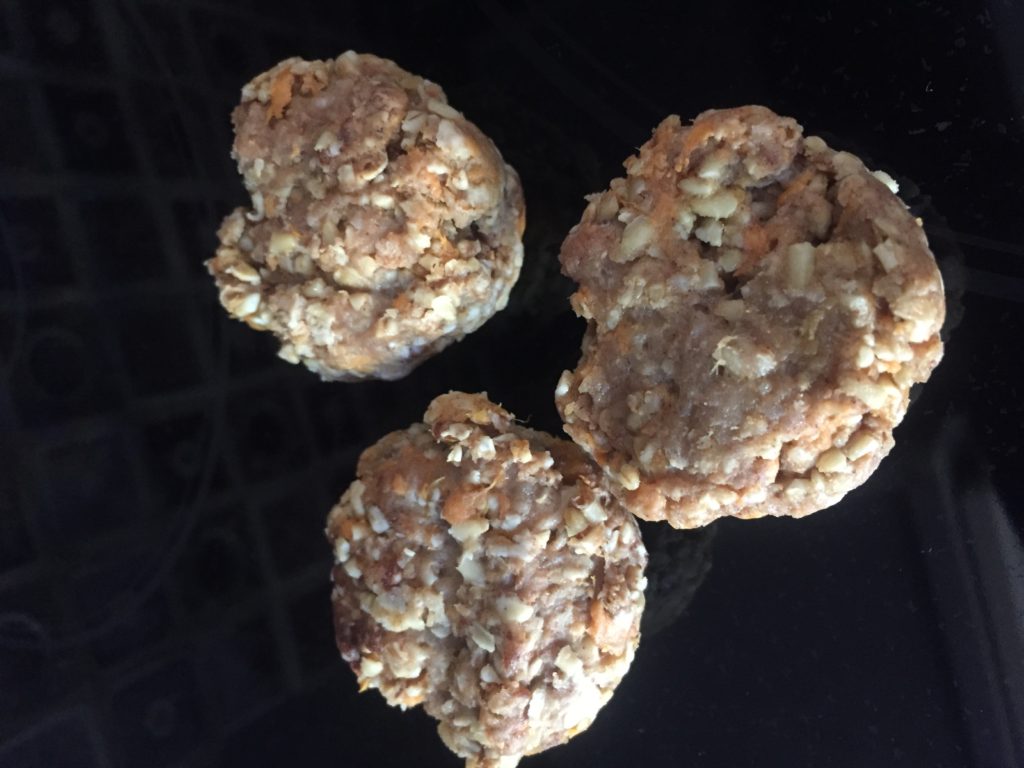 You can check out the original recipe here
Carrot Pupcakes
Miss Millie is a sugar fiend, have I mentioned that? After searching many dog treat recipes I found this was the best for a special occasion. For her 5th birthday I made her and her friends these awesome cakes with cream cheese frosting. She was in heaven!
Ingredients

:
Pupcakes ~

2 cups Shredded Carrots
3 eggs
½ cup Unsweetened Applesauce
1 TBL Cinnamon
½ cup Quick Cook Oats
3 cups Brown Rice or Whole Wheat Flour
¼ cup Honey
Frosting ~
8 oz Cream Cheese, softened
¼ cup Unsweetened Applesauce
¼ cup Honey (or less)
Instructions:
Preheat oven to 350
Lightly spray cups of muffin tin with cooking spray
In a large bowl, stir together carrots, eggs, & applesauce
In another bowl, mix cinnamon, oats, & flour
Slowly mix the dry ingredients. Stir until well blended. If the mixture is too dry you can add water, applesauce or honey.
Spoon mixture into muffin tin. Pupcakes do not rise much so press dough into place with fingers or spoon.
Bake for 25-35 minutes.
Cool before frosting or serving.
Frosting Instructions:
Blend ingredients with a hand mixer until well blended.
Use a pastry bag or Ziploc with a corner cut or spatula to spread on to the cake.
These will freeze well for up to 2 months and stay fresh in the fridge for about 2 weeks.
I like these molds from Amazon for the pupcakes


You can check out the original recipe here
I hope you get to try out these recipes and that your dog loves them! We love feedback so leave us a comment.
Want to see more of us? Check out where we are on social media
Disclosure: Please note that some of the links above are affiliate links.  In fact, just go ahead and assume that anywhere you see a link, that it's an affiliate link.  There is no additional cost if you decide to make a purchase; We will simply earn a small commission.  We will never refer a product or service that we don't use or have experience with.  But don't take our word for it – do your own research on any products or services to be sure they'll be a fit for you.  If you have questions on any of these, please ask!