I did this crazy thing I brought a new puppy home. For many people this may seem like a spur of the moment decision but really months of thought have gone into this. Whenever you bring home a puppy  you need to put A LOT of thought into the decision.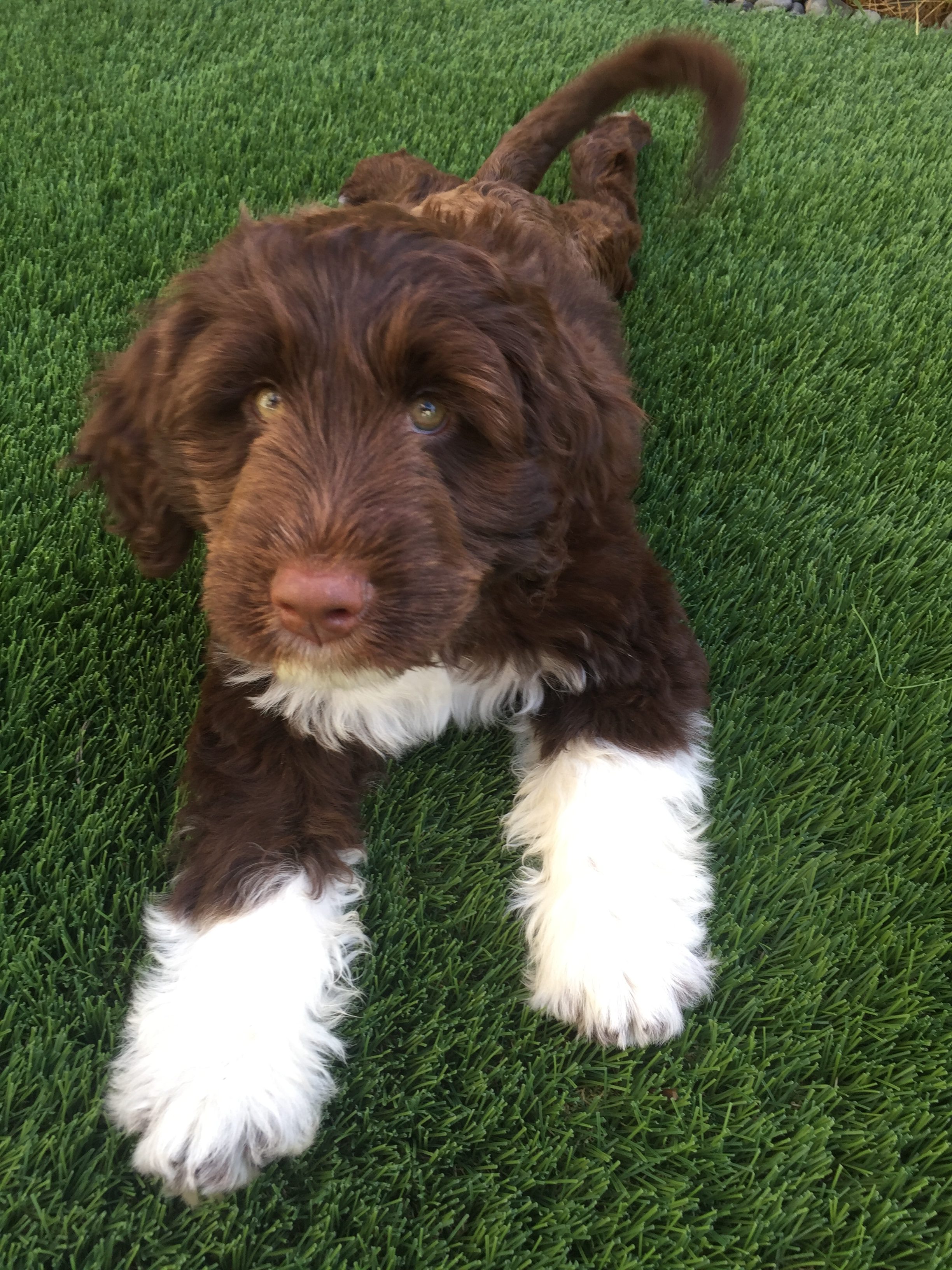 I have asked myself the hard questions. Am I ready to train a puppy? Am I ready to have the double amount of clean up? Double vet bills? Am I ready to share my attention? Is Miss Millie ready for a puppy? Will this derail her training? Will it affect our agility trials? Can I handle two dogs? And then after I asked and answered them, I started all over to make sure I was ready to bring home a puppy. Read my post on "Should I Get a Dog?" here.
And when I was done talking to myself, sometimes literally. I talked to my trainer, other people with Portuguese Water Dogs, other people who have two PWDs. Breeders from other breeds. Owners with multiple agility dogs. Owners with multiple dogs. I talked to anyone who would talk to me about getting a second dog. And even people who really didn't want to talk to me, I asked if I should bring home a puppy.
When you bring home a puppy your entire world changes. Even if you have had a dog before getting a puppy is life altering. I forgot that part. No longer do I get to wake up and pet Miss Millie in bed until I'm ready to get up. My morning now consists of grabbing puppy running down the stairs (which isn't quite as easy as it was years ago) putting him outside and cheering him on while he potties. Would I change it, NO!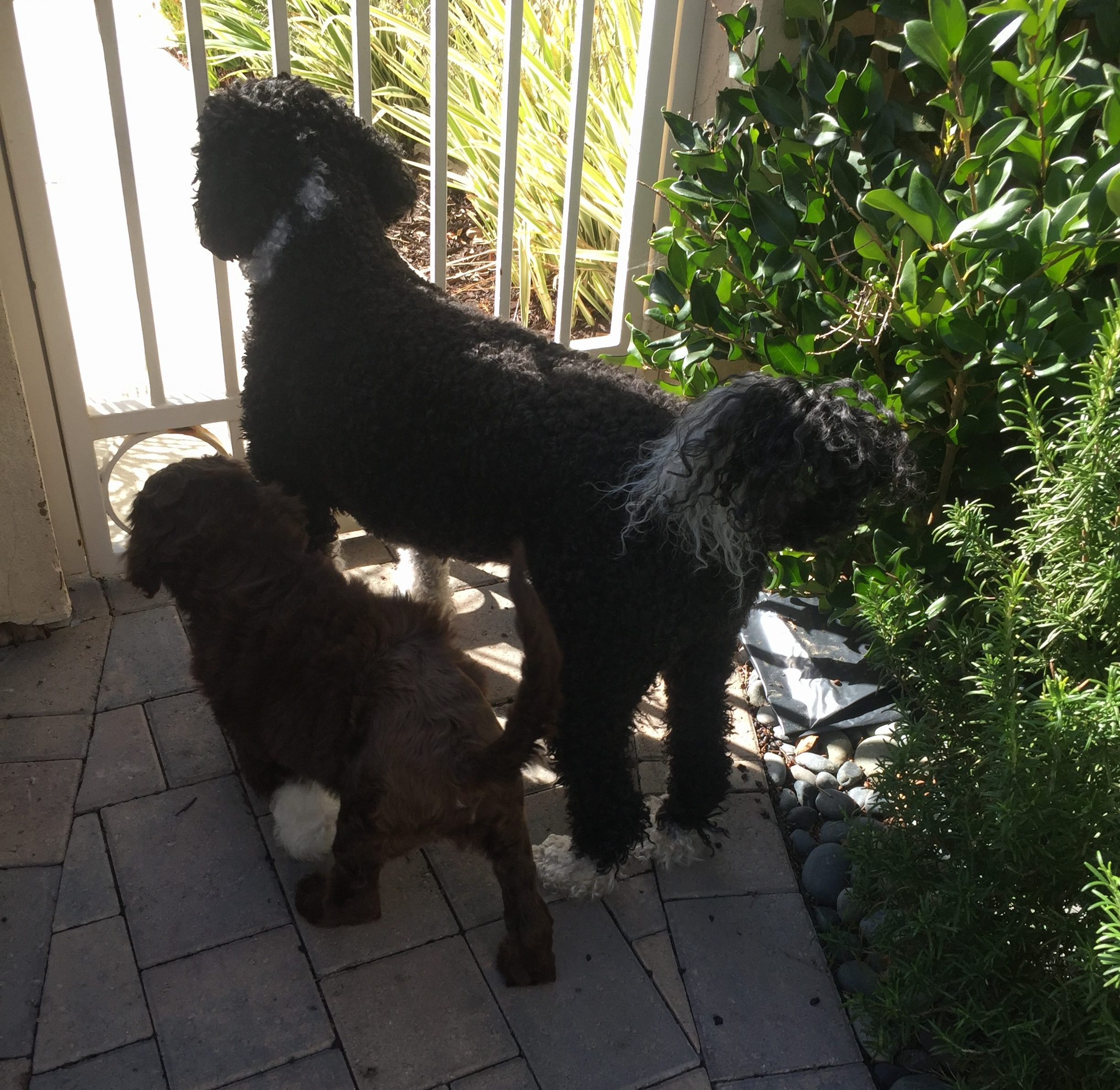 Must Have Products
Bringing home a puppy is kind of like bringing home a new baby, no matter how prepared you think you are you aren't. There are some things that you absolutely must have when you bring home a puppy:
Wire Crate ~
You may use a soft-sided crate for transportation but once you bring home a puppy he is going to need his own house. Crate training a puppy is tough work but in the long run everyone will be happier. You can learn more about crate training in this article.
Crate Pad ~
There are multiple schools of thought here, some people like to use a towel or old blanket and other people like an actual crate mat or bed. Regardless of your choice make sure it is washable, in case of accidents, and that it offers your dog a soft place to lay their head.
Crate Cover ~
Again there are a couple of options you can use an old towel, blanket, or sheet…which I have used all of those at one point or another. Once Miss Millie was in her large crate I had a crate cover made that match my office space. There are lots of nice crate covers on the market now making it easy to get one that fits your needs.
Food and Water Bowls ~
With so many options out there where do you even begin? After much trial and error, I have two options that I prefer. Either a raised feeder or ceramic bowls. Plastic and Metal bowls are generally lighter and easier for the puppy to flip around and make a mess with. Ceramic bowls also help in keeping light colored faces from browning. Or at least in my experience it has helped. Raised feeders are nice and are better for the neck, my first girl only ate out of a raised feeder but Miss Millie never took to them.
Puzzle Games ~
If you find your pup is inhaling his food or seems to be bored (demand barking is usually a good sign of boredom) having a puzzle on hand is super useful. I fed Miss Millie from the Dog Tornado for the first year of her life. Plus, it makes for a great game on rainy, cold, or snowy days when outside time is limited. The Kong Hard-sided Wobbler is another great puzzle game for the puppy. This one they need to be a little older in order to fully have the ability to knock the toy around but it is a great one to continue to use even when they are older.
Collar or Harness ~
My preference is a front clip harness, the SENSE-ation® or SENSE-ible® Harness are my go to products. They are simple to use and help limit the pulling and encourage loose leash walking. I personally like to keep the pressure off the dog's neck and therefore don't use collars. However, there is nothing wrong with a collar in my opinion. A Martingale collar is a great option, the collar itself is relatively loose until pressure is placed and the two rings pull together. It provides more control without the choking effects of a slip collar.
Leash ~
All dogs should be on a maximum of a 6-foot leash. Retractable leads are NOT a good tool to use ever. A retractable lead does not give you any control of the dog and gives your dog too much freedom. I prefer a 4-foot leash but for a puppy a 5 or 6-foot leash is generally easier. When training you may want to select a lightweight long line to work on stay, come, and other distance commands.
Training Treats ~
I am a positive reinforcement trainer so we go through A LOT of treats in this house. You don't need large pieces, just tiny pea-sized treats will do. I like hot dogs, string cheese, Skinny Minis by Fruitables, and Tricky Trainers by Cloud Star. I also make a lot of my own treats, you can pick up a couple easy recipes here.
Food ~
This is an area where everyone has an opinion. Depending on the type of dog you brought home will depend on the type of food you should be feeding. A working dog, such as a Portuguese Water Dog, they need a diet that is high in protein. Regardless of where you got your new pup from you will want to know what they were feeding and why. Then you can make a decision on what to feed.
You can pick everything up right here:
There is so much more that you can have at home but these are the MOST important things. Everything else can be added when you have time or find the need. Stay tuned for the rest of the Bringing Home a Puppy series……Mr Magoo and I look forward to chronicling our journey. You can follow Mr Magoo and Miss Millie on social media, check us out here.