Congratulations on your new puppy!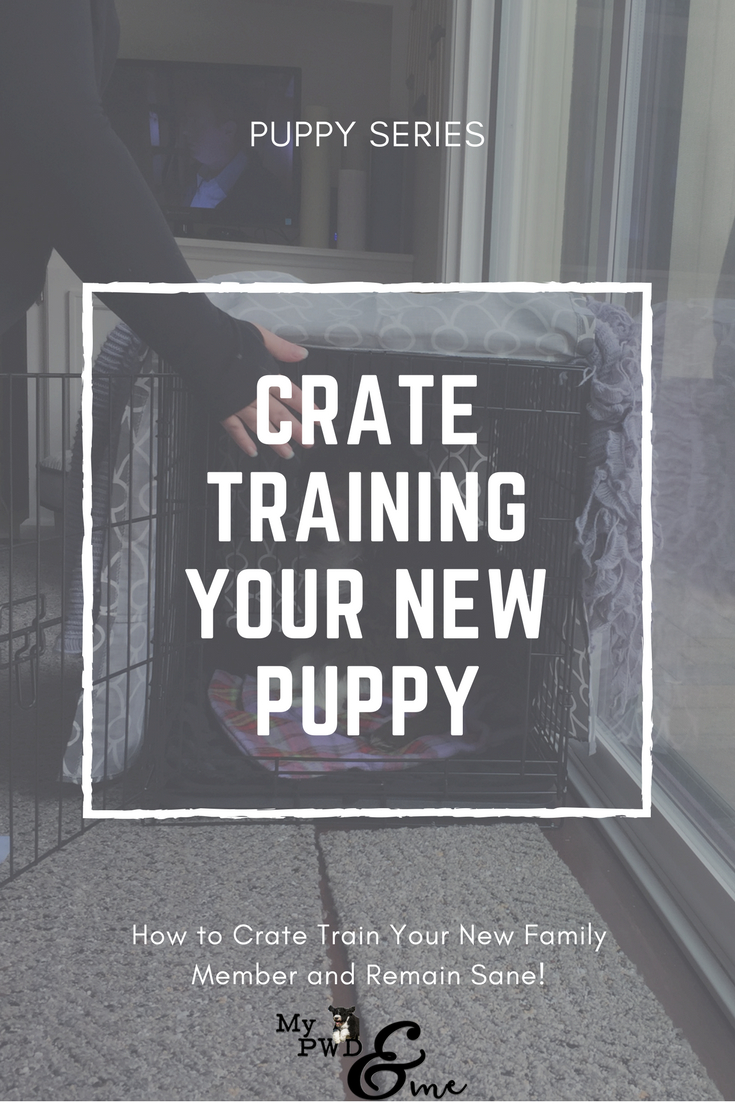 Now that you have your puppy home the fun begins! If you are like me you want your puppy to be well adjusted, safe, and happy. And you want to keep your belongings in the same state they were in prior to puppy arriving. The best way to do this is by crate training your new family member. It will also help with potty training, which you can learn more about my methods in my blog post on potty training. Let's get going on crate training.
What You Need for Crate Training
You will want a wire crate, an airline approved hard-sided crate is another option however it isn't quite as friendly as the wire crates. It is meant for transportation so it isn't quite as comfortable as a wire crate. Soft-sided crates are not great for puppies or when you first start crate training. Your furry friend will figure out they can claw, chew, and scratch out of it, thus defeating the purpose of the crate.
Crate Sizing
The size of the crate is just as important as the crate material. The crate should be large enough for your dog to stand up and turn around. They don't need more space than that when you are training. When potty training this is particularly important because they generally won't pee or poo in a space they sleep. If you have a puppy you can get a larger crate but make sure you are able to partition it off so they have the minimum space they need.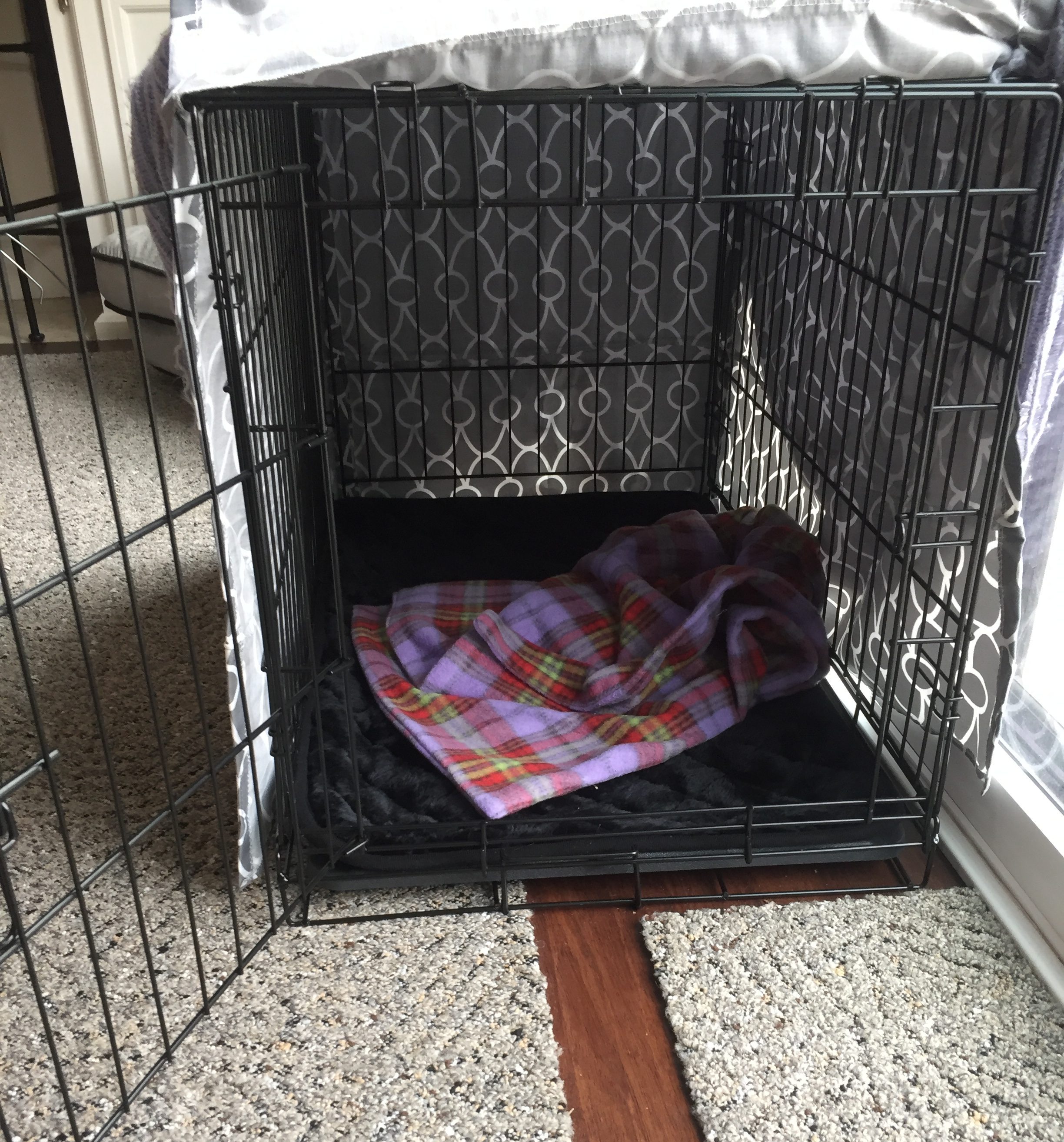 You will want to make their house as comfortable as possible. Depending on the dog a blanket or towel might be best. Or maybe you want something with a bit more padding or more fitted to the crate. There are many options just make sure whatever you choose allows your pet to be safe. If you have a dog who likes to shred something make sure they won't be able to choke on any pieces they tear up. You also want to make sure that you are able to wash the bedding.
Crate Covers
I also highly suggest you cover the crate. When you cover the dog's kennel you are creating a den like environment which allows them to feel more secure. Plus, it helps to eliminate environmental stimuli and allows them to relax in their house. This is super important if you plan on doing agility, water, or other performance events. Your dog needs to feel secure and relaxed so they can perform well, the best way to do this is to help eliminate some of the noise of the surroundings.
Now that you've got your pups house ready for him, how do you crate train a puppy?
Get Started with Crate Training
There are a lot of ways to go about crate training, the least successful is putting your puppy in the crate, closing them in, and letting them cry forever. Your dog doesn't learn anything this way and you are likely scarring your relationship and trust with your dog.
Your goal with crate training is for your puppy to have a safe space to go and do so willingly. Miss Millie is almost 7 and she still chooses to spend a lot of time in her crate, just because she likes hanging out in there.
I start by feeding my puppy in the crate with the door open. After a couple meals like this, I'll close the door while he eats. As soon as he's done I'll open the door and give my release command. Check out this post for more information on release commands. Depending on your puppy this may take a couple meals or a few days.
Moving Forward with Crate Training
Next, you'll want to get your puppy going into the crate when you want them to. Start by tossing treats into the crate and have your puppy go into get them. In the case of Mr Magoo he preferred if I lured him into the crate with the treat and then handed it to him. I use my release command to get him to come out of the crate and then repeat the process 3 to 5 times. I do this when I DON'T need or want him in the crate. This is conditioning him to learn that the crate is a safe space he can go to.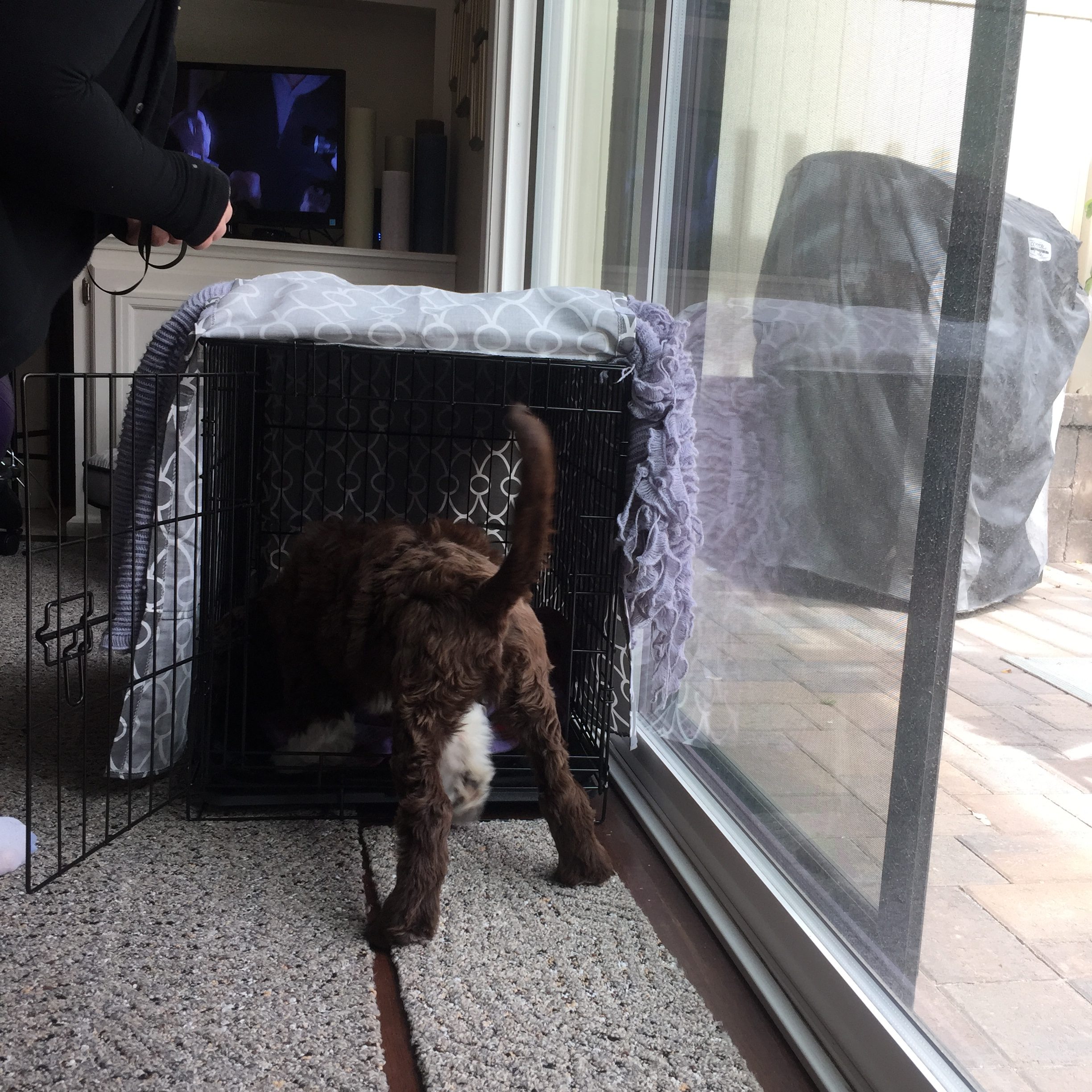 During the day, I like letting my pup fall asleep by me and then place him in the crate for the rest of his nap. This helps him understand that he goes there to sleep and its ok to wake up with the door closed. Remember when bringing him out after a nap, give your release word and then go straight outside to potty.
Eventually, they choose to go into the crate to nap. Again, this might take more time for some dogs than others. Miss Millie was in her crate napping quickly whereas Mr Magoo will probably take a little longer since Millie doesn't always nap in her crate anymore.
To help condition your puppy to enjoy their crate it is important to make the experience fun and, in the beginning, short. Once they are comfortable going in their house you can close the door and leave them for a few minutes. Start with you being by the crate and gradually move to you leaving them in the room for a few minutes by themselves.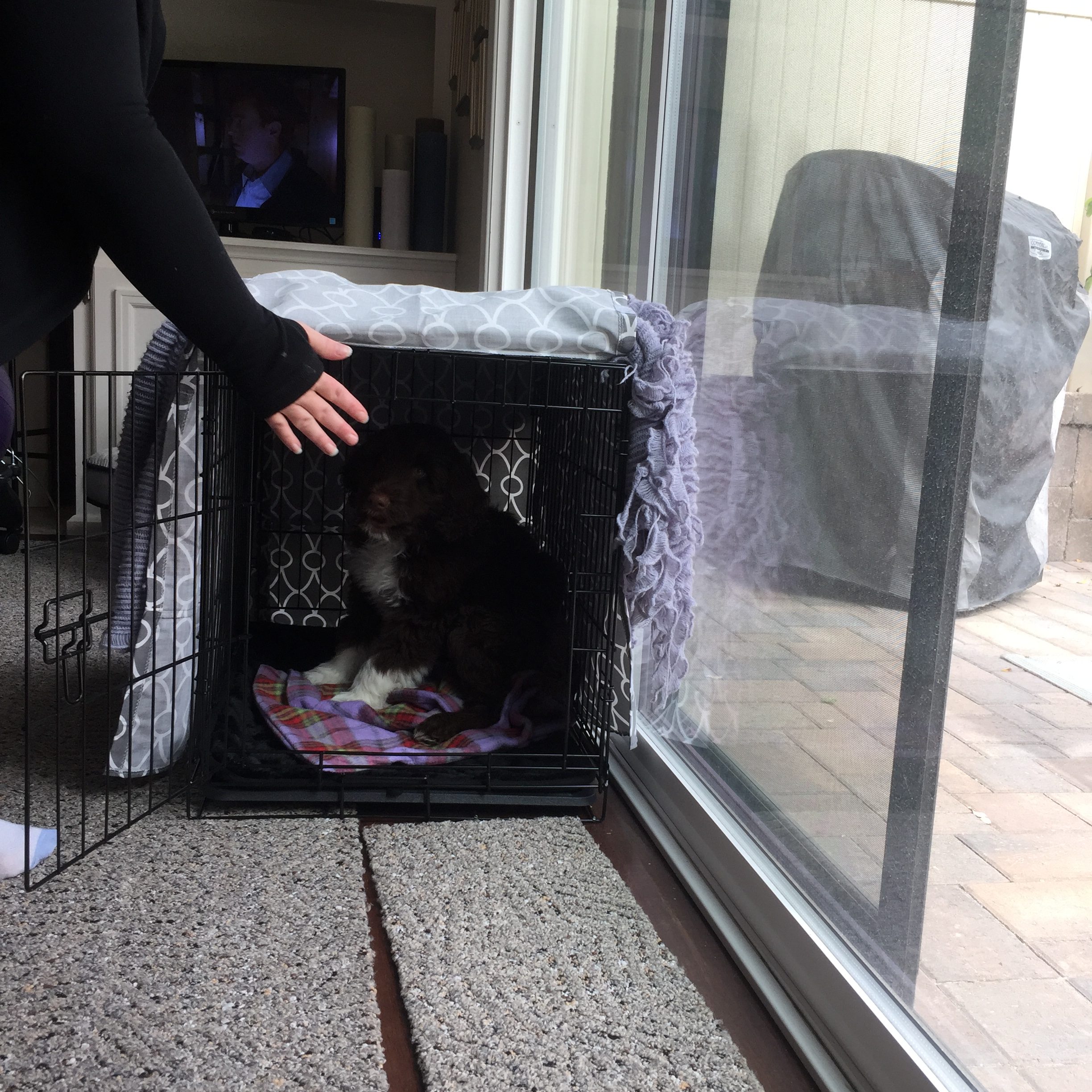 Mastering Crate Training
Work up to leaving them in their crate while you leave the house but are still nearby. You don't want them barking excessively and creating undo stress it will just derail the training process. It doesn't take long until you are able to leave them for short periods of time to run errands and the like. Remember they will do their best not to have accidents in the house but they have small bladders and you want to set them up to succeed.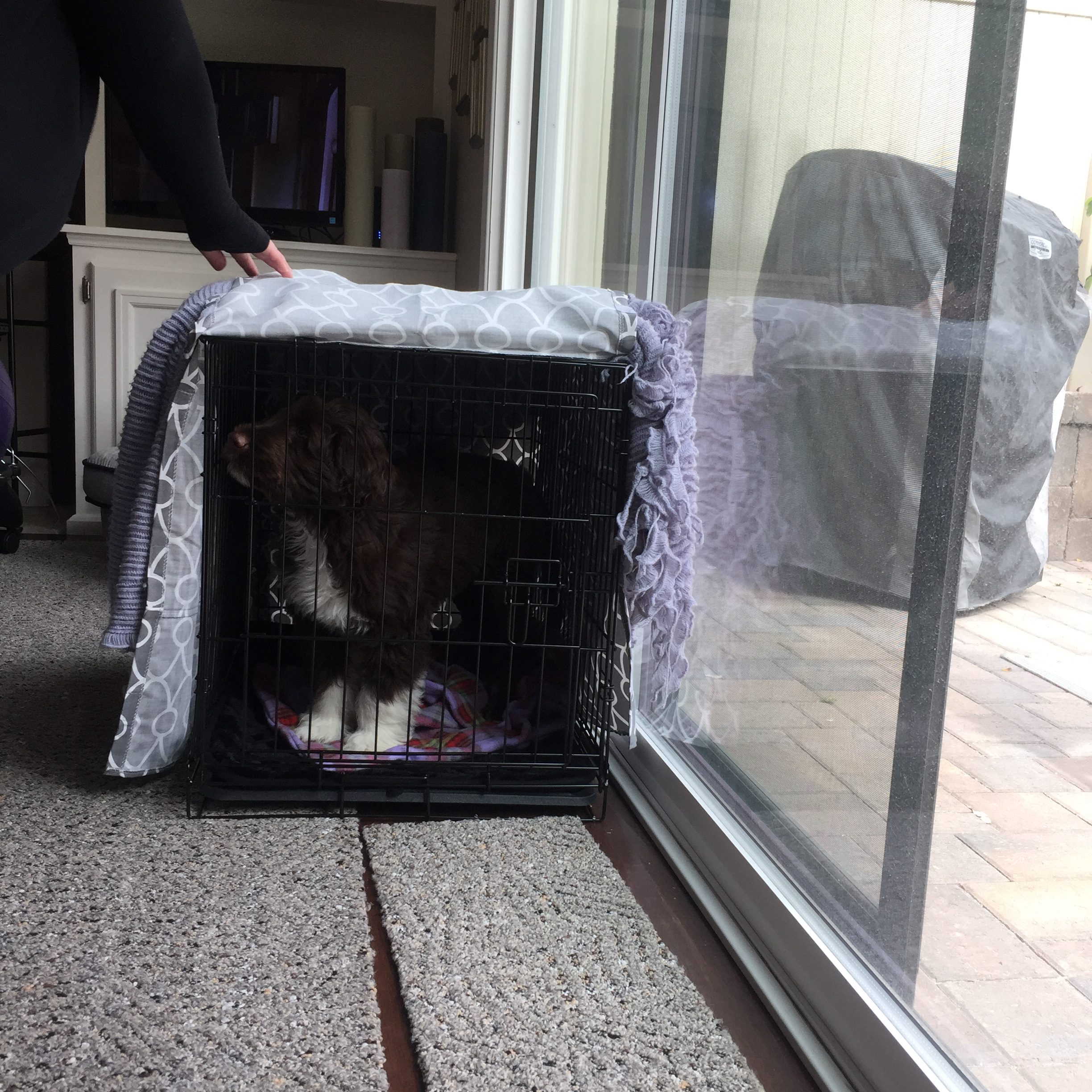 At night, I do much the same as I do during the day. Letting the puppy fall asleep and then placing him in the crate for rest of the night. Make sure you can hear them if he gets up in the middle of the night because they will need to potty. Eventually, they will be able to sleep through the night. But until then, you will want to be diligent to make sure your crate training isn't derailed.
Want to see more of Mr Magoo, check out where we are on social media